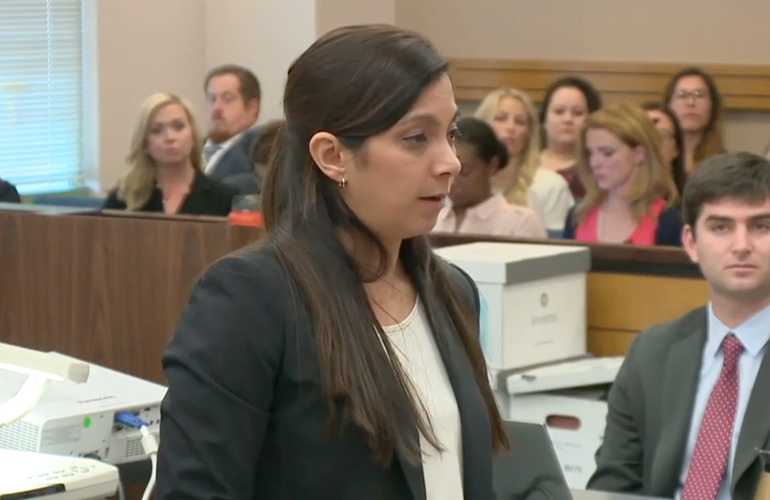 Petco faces questions in fatal 'rat bite fever' case; boy, 10, died
Dana Littlefield
SAN DIEGO — The father of a 10-year-old boy who died in San Diego County after contracting a bacterial infection from a pet rat he bought at a local Petco store is suing the pet supply chain, claiming it knew of the "hidden danger" — and the potential for death — but failed to provide an adequate warning to customers.
Years before Aidan Pankey and his grandmother bought the rat in late May 2013, there were more than a dozen reported incidents around the U.S. of adults and children contracting rat bite fever from animals sold at Petco stores, an attorney told jurors Wednesday morning.
"Despite this, you will hear that Petco is still selling rats to kids and kids are still getting sick," Bibianne Fell said during her opening statement in San Diego Superior Court. "To this day, Petco is still selling rats."
But lawyers for Petco and Barney's Pets, a West Coast vendor that provides small animals to the pet supply chain, said it's impossible to ensure that each rat among millions sold in stores around the United States is free of bacteria that could be harmful to humans. And they said customers are warned of the potential danger.
"There are risks with owning any pet," said attorney Kimberly Oberrecht, who represents Petco, adding that rat bite fever is a rare disease in the U.S, and one that is treatable with antibiotics.
The Centers for Disease Control and Prevention confirms those statements on its website, but it notes that no accurate data on incident rates are available because health authorities are not required to report cases of rat bite fever.
"Statistics aren't reported to the CDC because it doesn't happen very often. … So this is not an epidemic as the plaintiffs would have you believe," Oberrecht told the jury.
On May 27, 2013, Aidan and his grandmother went to a Petco store in Carmel Mountain Ranch, where he picked out and purchased a rat he later named Alex. Two weeks later, the boy fell ill, with symptoms including an upset stomach, chills and a fever.
His family took him to a doctor, who diagnosed him with the flu. According to court documents, he was told to rest, drink a lot of liquids and to return for a follow-up visit a few days later if his symptoms did not improve.
But Aidan didn't get any better. The next night, he had pain, fever and stomach problems that wrested him out of his sleep. He was pale, lethargic and could not walk.
His family called paramedics, who took the boy to the emergency room at Rady Children's Hospital. But by then it was too late.
Aidan died early the next morning — June 12, 2013. An autopsy said the cause of death was streptobacillus moniliformis infection.
According to the CDC, this particular type of bacterium is part of the normal respiratory flora of rodents, and those that carry it do not show any outward signs of disease or infection. It can be transmitted from animals to humans through bites or scratches, or just by handling a rodent that carries it.
There is no evidence that Aidan was bitten.
The boy's parents, Andrew Pankey and Vanessa Sauer, filed their lawsuit in 2014, claiming that Petco did not effectively require Barney's to supply rats that were free of dangerous bacteria, nor did it test the rats before selling them or warn customers that an infection could be fatal.
"There is no practical test to detect rat bite fever in a human victim," said Fell, one of the attorneys for the family. She added that the infection has a 7 percent to 13 percent mortality rate if left untreated.
In her opening statement, Fell said the jurors would hear that more than 200 cases of rat bite fever have been reported in the U.S., and that Petco knew of at least 17 cases involving infected rats sold at its stores since 2001.
"It had knowledge that its customers were contracting rat bite fever from its rats and getting very, very sick," Fell said, noting that some people reported having permanent joint issues, paralysis and brain damage as a result of the infection.
The lawyer said Petco knew that dozens of rats at Barney's had tested positive for bacteria in the four months leading up to May 2013, when Aidan bought his pet rat.
Attorneys on both sides of the case acknowledged that Petco customers who buy rats, including Aidan's grandmother, are given a form at the time of purchase that includes information on how to care for the animals and alerts them about rat bite fever. But the boy's family contends those warnings didn't go far enough.
"Petco knew at this time that rat bite fever causes death and did not put it in the warnings," Fell said.
Oberrecht, who represents the company, explained that the jury would be asked to decide whether Petco's warnings were adequate, whether it acted responsibly when it chose to sell rats and whether an animal that carries the bacteria naturally should be considered defective.
"Petco warned about it," she said. "One thing Petco cannot do is change the nature of an animal."
Andrew Pankey is seeking unspecified damages at the end of the trial, which is expected to last 10 to 12 days, his attorneys said in court documents. Sauer, the boy's mother, settled with the defendants before the case went to trial.